What does a copywriter do?
When someone describes themselves as a copywriter, it can cover a great variety of jobs. This can include writing the content for websites and social media, to writing adverts, commercials, brochures, technical manuals and so much more. Often, their work is for commercial purposes, but can also be educational, promoting a particular cause, or creating awareness about an issue for charities and public bodies. A copywriter might be writing about almost anything for almost anyone, but they are always writing with one purpose in mind: engaging their readers with the subject and generating interest in the product or cause.
Put simply, a copywriter is someone with the skills to communicate an idea in a creative, pithy and punchy way, and to create a powerful and persuasive message for their intended audience.
Why should I hire a copywriter?
No-one knows your business like you do, of course, but you're seeing it from the inside. You're not seeing it how your customers, or more importantly, your potential customers, see it. A copywriter is not just a glorified typewriter, shuffling words around the page, they are marketing experts who know how to use language to deliver your message in exactly the right way.
They have the skills and experience to sell your product, or promote your cause, with both creativity and precision. They have the necessary insights to tell your target audience exactly what they want to hear. No waffle, no spare words, just powerful copy that is 100% on message.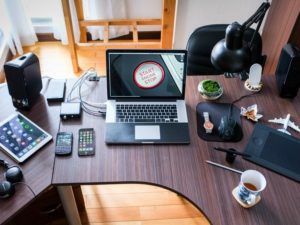 Still not sure a copywriter is what you need? Then get in touch for a free, no obligation chat about how I can help you.
The different kinds of copywriting
A copywriter can take on many different roles. They can all complement each other, of course, but most of my work falls into these broad categories:
Website Copywriter
A website copywriter is the one that creates the actual written content for a website. They might be involved from an early stage in the design of a website, working together with the client and the design team to develop an overall content strategy that affects how the entire site is laid out. Or, they may come in at a later stage, after the design is fixed, to write content that fits with the overall direction and makes best use of the presentation and space available. I have worked on a number of new builds, but am taking on an increasing amount of work as a content writer for established companies that are redesigning their sites to meet the changing internet habits of their marketplace.
Blog Writer
A blog is an excellent way to keep fresh content appearing on your site and feeds. It is especially effective for maximizing your SEO, as it allows a blog writer to work in certain key words and phrases in line with current market research. A skilled blog writer finds ways to introduce these key words without breaking the flow of a piece, and keeping a natural and authentic tone.
Social Media Copywriter
Keeping ahead of the competition on social media, and the continual demand for fresh content, can be extremely challenging for big and small companies alike. Hiring a social media copywriter to make sure that all your content is regularly updated and meets your marketing needs is a very effective solution. Tools such as bulk-scheduling posts and updates are a very efficient way to work together with a copywriter on both long and short term marketing strategies, but still keep control of exactly what content is being put out there, and when.
Technical Writing, aka the Explainer Copywriter
This kind of copywriter specializes in writing technical or training manuals and other instructional publications, from software tutorials, to staff handbooks and educational materials. It might even cover more factual work, such as Hotel Guest Service Directories, safety advice or tourism factsheets. Again, a copywriter has the skills necessary to make sure that all facts are presented clearly and concisely, and all instructions are methodical and well-structured, taking the reader's perspective into account. As I come originally from an education background, I have particular experience in how to present factual information in a way that is both unambiguous and accessible.